LOCATION
42.580284, 18.218354
CADASTRAL PLOT
cadastral plot 346 of the cadastre municipality Cavtat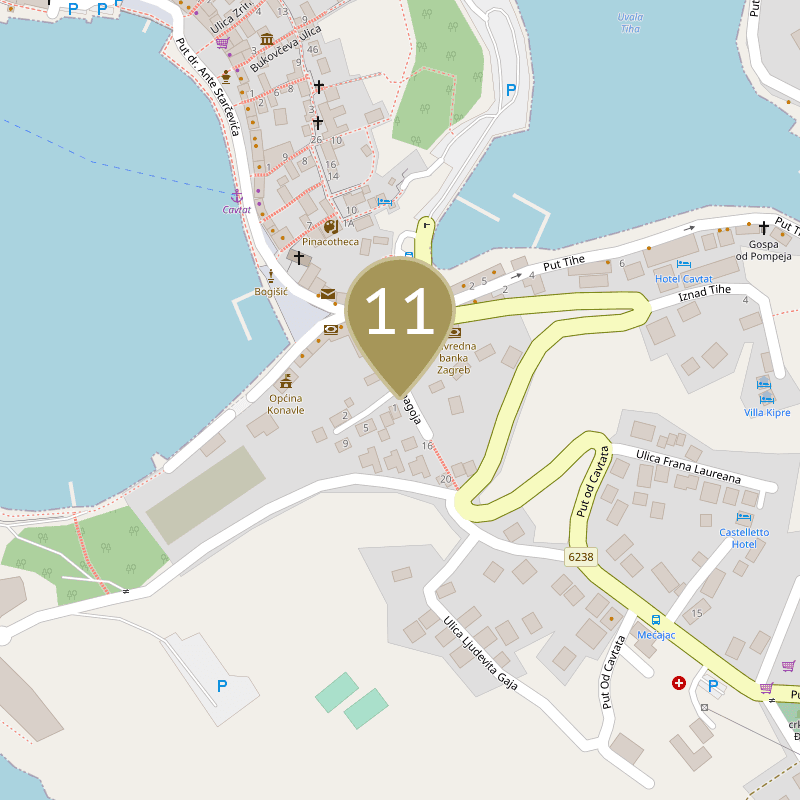 South of the old part of Cavtat, on the west side of Kneza Domagoja Street, which descends in a southeast-northwest direction towards the centre of Cavtat, are the remains of an ancient aqueduct. The remains of the wall are about 12 m long, with a maximum height of 3 m and an assumed width of 1.4 m. The outer face, largely removed, was built of smaller regular carvings horizontally layered, and the interior of the wall was filled with larger fragments abundantly bound with lime mortar mixed with small pebbles and crushed brick. It is a high substructure that carried a water canal before entering the city. The rest of the water supply route in the street is buried in the backyards or demolished by building houses. It is assumed that Epidaurum received water supply system after acquiring the status of a colony in the time of Caesar, and it stretched from the present-day village of Vodovađa in the eastern part of Konavle through the settlements of the so-called Gornja banda to Cavtat in the length of 24 km. Until 1875, one arch of the aqueduct still stood in Cavtat, but it was demolished so that the road could be widened during the visit of the Austrian Emperor Franz Joseph.
LITERATURA
Štuk, Niko. 1908. Iskopine u Epidaurumu, (Cavtat, Ragusa Vecchia). Bulletino di archeologia e storia dalmata, XXX. Split. pp. 156–160
Evans, Arthur; preveo Branko Kirigin. 1978. Cavtat – Konavli – Risan. Mogućnosti, God. 25, 8. pp. 951–966
Cambi, Nenad. 2006. Antički Epidaur. Dubrovnik, XVII/3. Dubrovnik. pp. 185–217
Faber, Aleksandra. 1966. Prilog topografiji ilirsko-rimskog Epidaura s posebnim obzirom na nova istraživanja. Opuscula archaeologica, 6. pp. 25–38
Kovačić, Ljiljana. 2012. Antički vodovod Vodovađa – Cavtat. Dubrovački muzeji. Dubrovnik.