LOCATION
42.587564, 18.227751
CADASTRAL PLOT
plot 718, k.o. Obod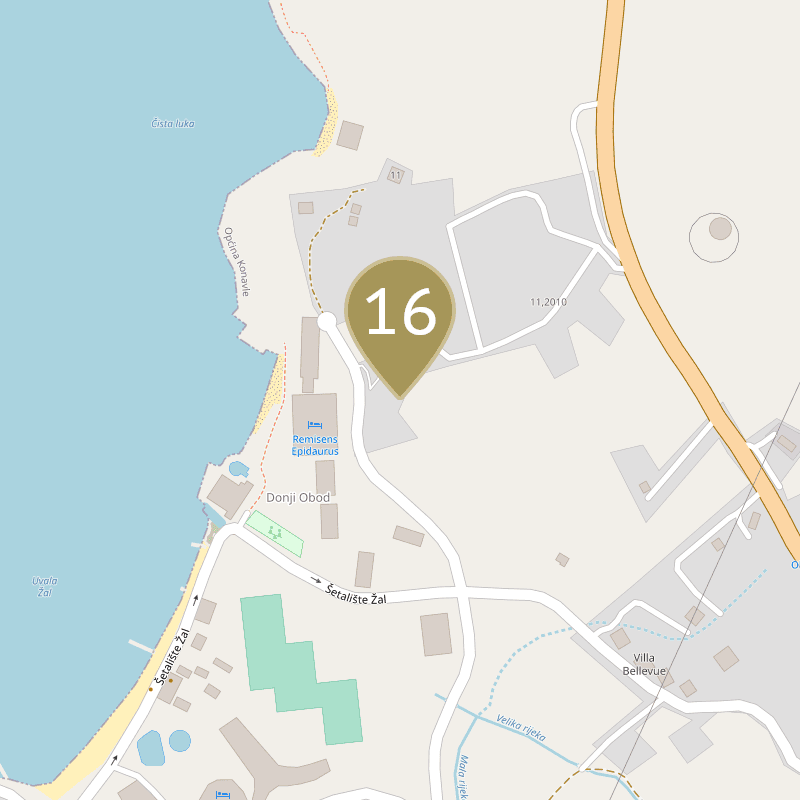 The area of Lower Obod is of exceptional archaeological importance in the context of the research of the Roman colony Epidaurum. Namely, in the area of Lower Obod, near the church of St. John in 1547, the Dubrovnik notary Marko Silvije mentions a found monument with an inscription dedicated to the Roman governor of the province of Dalmatia, Publius Cornelius Dolabella. It is actually a stone base on which Dolabella's sculpture stood, as can be deduced from the engraved text. Marko Silvije describes the context of the findings of the inscription, but also states that parts of several different sculptures as well as remnants of architecture were scattered around. The original inscription was recorded in nine lines, and in 1873 the famous German archaeologist and historian Theodor Mommsen transferred only the remaining five lines. After him, in 1878, Sir Arthur Evans also toured the site and mentioned that there was a statue and an inscription dedicated to Dolabella on this site (CIL III 1741). The inscription is kept today in the Baltazar Bogišić Collection, and it is believed that the remains of the mentioned building are most likely the remains of an ancient cistern which was later converted into the church of St. John and it is not excluded that the inscription got to this location during the subsequent adaptation.
LITERATURA
Corpus Inscriptionum Latinarum (CIL) III 1741
Evans, Arthur; preveo Branko Kirigin. 1978. Cavtat – Konavli – Risan. Mogućnosti, God. 25, 8. pp. 951–966
Cambi, Nenad. 2006. Antički Epidaur. Dubrovnik, XVII/3. Dubrovnik. pp. 185–217
Faber, Aleksandra. 1966. Prilog topografiji ilirsko-rimskog Epidaura s posebnim obzirom na nova istraživanja. Opuscula archaeologica, 6. pp. 25–38
Marcus Sylvius Rachusinus. 1547. In Inscriptionem P. Cor. Dolabellae nuper in Illyrica Epidauro effossam M. Syluii Racusini commentariolus. Nacionalna sveučilišna knjižnica Zagreb (R II F-8-122)
Novak, Grga. 1966. Dio 1: Povijest Dubrovnika od najstarijih vremena do početka VII stoljeća : (do propasti Epidauruma). Prilog Analima Historijskog Instituta u Dubrovniku Sv. X – XI (1962 – 1963). Dubrovnik.