PERIOD/DATING
Around 270 AD
LOCATION
42.577882, 18.222568
CADASTRAL PLOT
plot 641 and 642 of the cadastre municipality Cavtat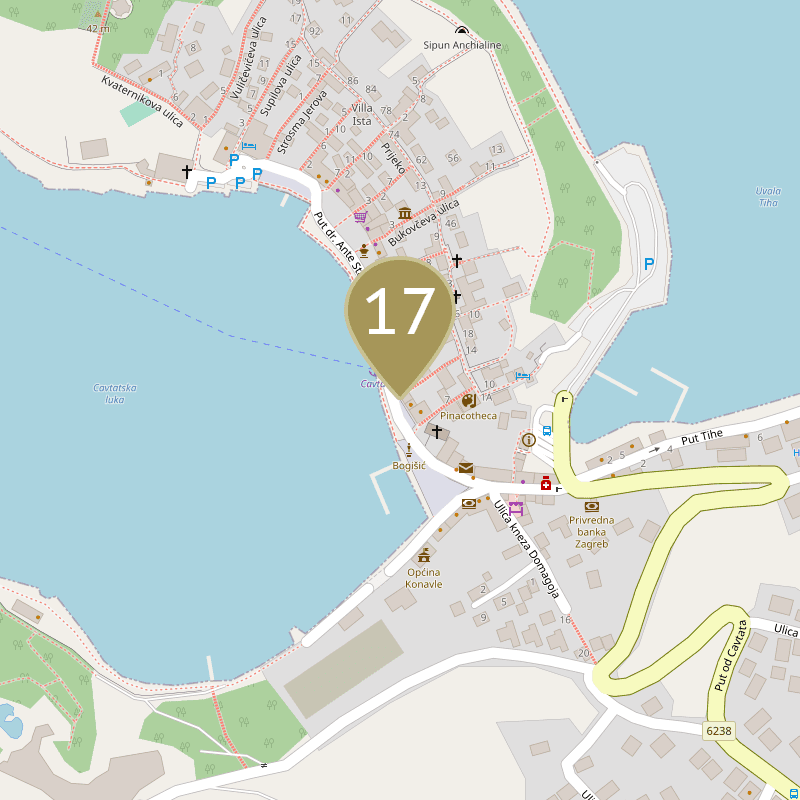 In Cavtat, near the church of St. George, a spelaeum was found, with the relief carved into the rock depicting Mithras killing a bull. The main iconographic representation, i.e. the sacred image of the Roman Mithraic cult, is the scene of tauroctony or the killing of a bull, most often depicted in relief in stone. It is a depiction of Mithra jumping on a bull, with the knee of his left foot pressing against his back, and his right leaning against the ground. Mithra raises the head of the kneeling animal with one hand while stabbing it in the neck with the other. As a rule, the display also includes a dog, a snake, a scorpion and a raven, as well as torchbearers (dodafori) who are clothed in the same fashion as Mithra, and stand in the margins of the display. Sir Arthur Evans wrote that the scene was accompanied by two altars, and that while cleaning them he found several Roman coins, according to which he concluded that this Mithraeum was founded around 270 century AD. Unfortunately, we do not know the exact location of Mithraeum, since at the end of the 19th century Baltazar Bogišić had it cut out of the nerve and built into the ground floor wall of his birth house (42,581709, 18,216821; plot 284 of the cadastre municipality Cavtat), where it is still located today. The relief is quite worn, and of the main actors of tauroctony only Mithras, a bull, and two torchbearers are visible.
How much is the church of St. George important site for the ancient colony is also shown by the fact that on the front of the church is a built-in part of the epigraphic inscription of Quintus Fabius Sanga. According to the latest research an inscription from the Late Republican period.
LITERATURA
Evans, Arthur; preveo Branko Kirigin. 1978. Cavtat – Konavli – Risan. Mogućnosti, God. 25, 9. pp. 1080–1086
Novak, Grga. 1966. Dio 1: Povijest Dubrovnika od najstarijih vremena do početka VII stoljeća : (do propasti Epidauruma). Prilog Analima Historijskog Instituta u Dubrovniku Sv. X – XI (1962 – 1963). Dubrovnik.
Kapetanić, N; Demichelli, D. 2021. Kvint Fabije Sanga – senatorski oslobođenik na natpisu iz Cavtata? Diadora : glasilo Arheološkog muzeja u Zadru, Vol. 35. str. 139 – 152.