LOCATION
42.583922, 18.213331
CADASTRAL PLOT
plot 35 cadastral plot the 37 of the cadastre municipality Cavtat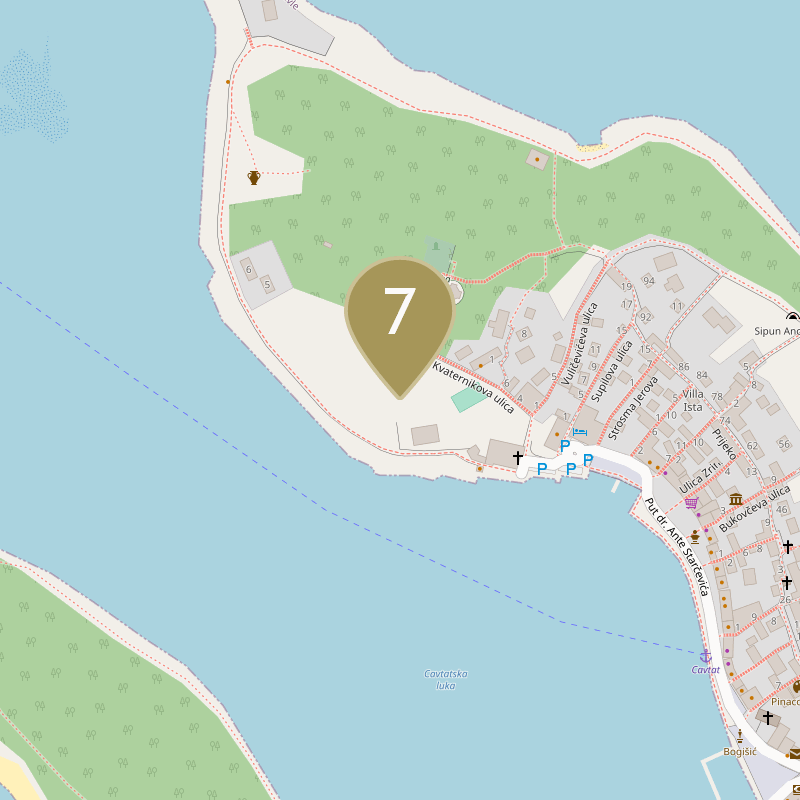 In 1878 Sir Arthur Evans, following the route of the still visible ancient aqueduct Vodovađa - Cavtat, dug a semicircular pool (piscina) which probably flowed to the final watercourse situated next the Villa Račić. Terminologically, he stated that it was most likely a nymphaeum, but this was never confirmed. Water entered the room through a semicircular niche. The semicircular pool has a cement floor and is surrounded by a staircase where bathers could stand. The depth of the pool was 110 cm. Everything was lined with marble slabs, but they were removed over time. Today, only traces of a semicircular pool are visible from the excavation, while most were devastated by subsequent constructions, such as the added fence wall of Villa Račić.
LITERATURA
Evans, Arthur; preveo Branko Kirigin. 1978. Cavtat – Konavli – Risan. Mogućnosti, god. 25, 8. pp. 951–966
Cambi, Nenad. 2006. Antički Epidaur. Dubrovnik, XVII/3. Dubrovnik. pp. 185–217
Faber, Aleksandra. 1966. Prilog topografiji ilirsko-rimskog Epidaura s posebnim obzirom na nova istraživanja. Opuscula archaeologica, 6. pp. 25–38
Novak, Grga. 1966. Dio 1: Povijest Dubrovnika od najstarijih vremena do početka VII stoljeća : (do propasti Epidauruma). Prilog Analima Historijskog Instituta u Dubrovniku Sv. X – XI (1962 – 1963). Dubrovnik.